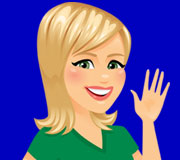 Cullen has been working with young children since 1994; falling in love with her profession from the start. Her career began at St. Timothy's Lutheran School in San Jose, California. She started as a Day Care instructor and transitioned to Preschool, teaching three and four year olds. Cullen also became the Preschool Director and successfully influenced the program's direction for many years. However, she realized her true love and passion was teaching so she went back to the classroom. At the end of the 2011 school year Cullen "retired" from St Tim's to reach and teach thousands of children globally on a daily basis by focusing on Cullen's Abc's!
Over the years, Cullen has always connected with special needs children and has welcomed several special needs children into her Preschool classroom with very successful and satisfying results.
You can stay connected to Cullen with Facebook, Pinterest, and following Cullen's Abc's on Twitter.