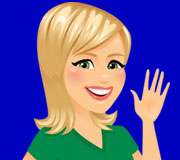 Sami is using the Preschool Bible Study lessons at her church and her daycare business!
"Thank you so much!!  You guys are such a wonderful blessing!!!  Class was wonderful and the Lord blessed me so much.  We had 2 little ones, a new child who just moved to our town and a grandchild of someone who regularly attends!  It was so much fun and The Lord filled me with such joy!!!!!!  I had to keep looking at the clock because we were having so much fun I wanted to make sure we didn't run out of time 🙂  And now my preschool lesson is all planned for my daycare as well.  Even better!
May the Lord abundantly bless you and Cullen as you trust in Him today!!" Sami
Send your testimonial to be posted here!