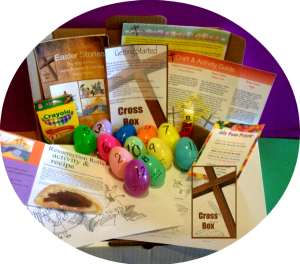 Hi there! Here is some NEW for you. Everything you need in one box for Easter activities mailed to your child. Your child will be excited to receive something in the mail, they will be engaged in Easter activities and grow in their relationship with Jesus! Also, it will give you the tools you need to explain and tell the most important story about Jesus to your child.
[maxbutton id="30″]
What: A box of Christian stories and activities for children.
How: A Cross Box is mailed directly to a child.
Why: Children creatively grow their relationship with Jesus.
Cost: Order an Easter Cross Box now for $19.95 + shipping and receive a free 3 month Cullen's Abc's membership ($24.95 value).
Current Members email me for a 20% off coupon code 
[maxbutton id="30″]