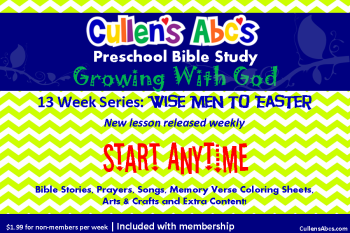 Hi There! Kim, a wonderful user, had a request for the "Growing With God" Preschool Bible Study, Wise Men to Easter series. Kim's request: "I am doing the Preschool Bible Study series. I see that you post lessons every Monday. I am wondering if I can preview the key verse or the overall theme in advance? I'm creating a bulletin board for my Sunday School class and I would like to put up the monthly schedule. Is this a possibility?"
What a great idea Kim! Click here for a list of all of the Key Bible Verses for each week's lesson. Print this out and hang it on your church bulletin board or at home on your fridge so you'll know what's coming up!
If you have not started the series yet that is ok, you can start at anytime. The entire 13 lesson series is free with any Cullen's Abc's membership, or single lessons are $3.99 each.

| | | |
| --- | --- | --- |
| [maxbutton id="5″] | [maxbutton id="4″] | [maxbutton id="6″] |