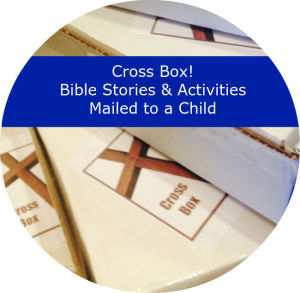 Hi there! In one box here is everything you need for engaging Bible activities for a child. Any child is excited to receive something in the mail, so they will be ready to hear a Bible story and do the activities. A Cross Box will help them grow their relationship with Jesus! Also, it will give you the tools you need to explain and tell this story about Jesus to your child.
[maxbutton id="30″]
What: A box of Christian stories and activities for children.
How: A Cross Box is mailed directly to a child.
Why: Children creatively grow their relationship with Jesus.
Cost: Starting at $14.95 + shipping, order now and receive a free 3 month Cullen's Abc's membership ($24.95 value).
Current Members email me for a 20% off coupon code 
[maxbutton id="30″]