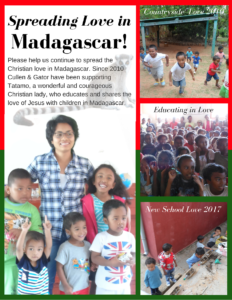 Since 2010 Cullen and Gator have been supporting Tatamo, a wonderful and courageous Christian lady, who educates and shares the love of Jesus with children in Madagascar.
We are excited to share that Chapter 6 | God Provides, is conclued. Thank you for your prayers and support. The $1800 for Tatamo's Christian Montessori training program has been raised! In 15 days the funds were raised from individuals and churches from across the United States: California, Utah, and Ohio. This training is going to benefit Tatamo with teaching skills and spreading the love of Jesus to more children in Madagascar.
Please continue to pray for Tatamo. The next step is bringing Tatamo to the United States or sending some to Madagascar to help her. I if you know of individaul or organation that can help find a Christian Montessori resource that would like to go the Madagascar to support Tatamo please let us know.
Following is the complete Love in Madagascar story…
Timeline: Past, Present & Future Actions
2010 – Met Tatamo through Cullen's Abc's and gave her lifetime membership 
2010 – 2014 – Tatamo educated children in the Madagascar countryside
2014 – 2016 – Tatamo ran a small school out of a student's home in town
Fall 2016 – Attempted to bring Tatamo to Park City, Utah, but U.S. Visa denied
2017 – Tatamo moves school into a building & starts Christian Montessori Fellowship training May 2017 – Funds for Christian Montessori Fellowship training raised.
Fall 2017 – Bring Tatamo to Park City, Utah for Montessori training and Christian sharing ($5000 estimated) or send a Christian Montessori Missionary to serve Tatamo in Madagascar ($5000 estimated)
Chapter 1 | Countryside Love
In 2010 we met Tatamo when she reached out to us about Cullen's Abc's educational videos. At that time she was watching Cullen's Abc's videos at night in a small town that had electricity and internet. From the videos she would create lesson plans and the next day she would hike into the countryside where there was no electricity or internet, and educate almost 100 children ages 4 to 15! We realized this was a special lady doing God's work in the trenches and immediately gave her a free lifetime membership to Cullen's Abc's. During this time Tatamo was challenged by town and government officials for her teachings, but she has always found a way to continue to educate children academically and spiritually.
Chapter 2 | Educating Love
In 2014 Tatamo started running a school in town out of a small house of one of her students. This allowed her to focus on a specific group of children and grow them. Tatamo teaches with a Christian Montessori style on a strong Christian foundation. Up to this point she taught herself Montessori teaching techniques from videos on the internet.
Chapter 3 | No U.S. Embassy Love
In 2016 Tatamo reached out to us to help her further her Montessori training and teaching knowledge. In September 2016, we attempted to bring Tatamo to Park City, Utah, to train and assist at Little Miners Montessori school where our son attended. Little Miners and Cullen's Abc's paid $200 for her U.S. Visa interview at the U.S. Embassy. Although, we failed to properly prepare her for the interview and she was declined a U.S, Visa. The interviewer was concerned she would not return to Madagascar, which could not be further from the truth. We were all devastated.
Chapter 4 | Christian Montessori Love
In late 2016 we kept moving forward in support of Tatamo by searching for an organization that could assist Tatamo in Madagascar. In the process we were referred to Christian Montessori Fellowship headed by Edward Fidellow. They have a Christian based Montessori training program that covers philosophy, classroom management, school operations and teaching on DVD's and online. The huge benefit for Tatamo is she has a support group to ask questions and learn best practices. Edward says: "Montessori education is transformative and Christian Montessori education is transformative to eternity." Christian Montessori Fellowship immediately started providing Tatamo with training and support.
Chapter 5 | New School & God's Love
Early in 2017 Tatamo was able to move her school into large stand-alone building to run and grow her school!
Here is a look into Tatamo's heart from her own words about being denied the U.S. Visa, and how it has strengthened her school. "When I was declined, I was so sad. And I tried to understand God, because I knew that He had His reason why He did not let me go there (USA) yet. So this is the story.
Do you remember when I told you that when I go there, it will be my brother who teach the kids, since he had help me last year? I counted on him.
After I was declined (the U.S. Visa), I prepared and waited for the beginning of my school year. And brother told me that he got a job and cannot teach, since I cannot pay him yet. And then, I work alone again with the help of my mom at the beginning of the term.
I told everything to my Dad (who is at Antalaha doing some selling there), and he suggested me to find teachers. So mom and me prayed and tried for a month to find teachers. And we find 2, they are here for about 3 months now and I can pay them monthly with the help of Dad.
In my view, It was God who did not let me to go yet, because I would lost all my kids if there would be no one to teach them here during the time I go there. Now, I have trained the teachers and they can manage it, if I go there."
Chapter 6 | God Provides
In late April 2017, the effort to raise $1,800 to pay for Tatamo's Christian Montessori Fellowship training program started in earnest. In 15 days the funds were raised from individuals and churches from all over the United States: California, Utah, and Ohio. This action strengthens our relationship with Christian Montessori Fellowship and ensures their continued commitment to Tatamo. The training program is going to benefit Tatamo with improved teaching skills and allow her to spreading the love of Jesus to more children in Madagascar.
Future Chapters of Love
Spreading the Love in Madagascar through Tatamo will not stop with this awesome Christian Montessori Fellowship training program. The next steps are:
Bring Tatamo to Park City, Utah for hands-on Montessori training at Little Miners and create opportunities for her to share her experiences at local churches.

Identify and send a Christian Montessori missionary to serve Tatamo at her school in Madagascar.
Thank you for your prayers and support in anyway. We welcome you to become part of this amazing love story.
God bless,
Cullen and Gator