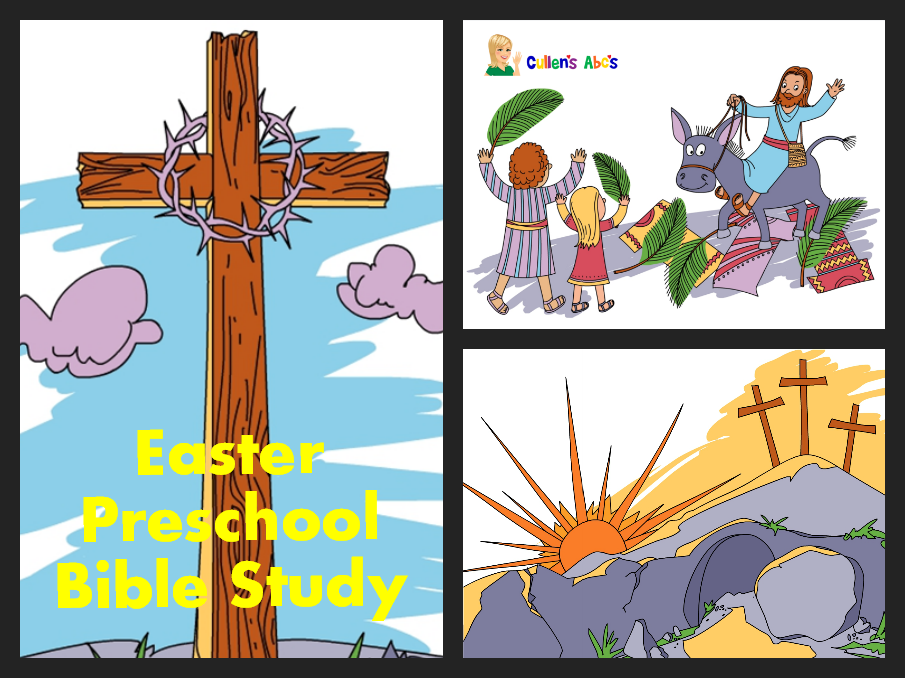 Hi there! To help members and non-members celebrate Easter here are all my Easter offerings. If you are not a member please sample the value of membership with the following free offers.
JOIN NOW for full access to all the Easter offerings and all things Cullen's Abc's including the "Growing With God" Preschool Bible Studies, the Kindergarten Readiness Evaluation, DIY Online Preschool, 800+ Preschool Videos and 250+ Preschool Art Patterns.
Below is my complete set of my Easter offerings. There are videos for you to watch with your child as well as adult activity idea videos, songs, games, stories and more. I hope you enjoy all of these Easter offerings.
Easter Story:
If you would like to teach the important, but difficult Easter story to preschoolers Resurrection Eggs are a great way.
How to Make Resurrection Eggs and tell the Easter Story
Resurrection Eggs Art Pattern
Open Eggs Interactively with Cullen and Gator (12 video series)
Lessons from my Growing with God Preschool Bible Study
Cullen Interactively Telling the Easter Story with Resurrection Eggs (1 video)
Cross Box
Easter Cross Box
What: A box of Christian stories and activities for children.
How: A Cross Box is mailed directly to a child.
Why: Children creatively grow their relationship with Jesus.
Growing With God Preschool Bible Study (Home, Church or School):
Week 11 Lesson: Palm Sunday Jesus The King Arrives
Week 12 Lesson: Jesus Is Arrested and Crucified
Week 13 Lesson: Jesus is Risen! Easter Sunday

Craft & Activity Ideas:
Button Flower Garden
Coffee Filter Flower
Easter Bunny Art for Children
Egg Dying How To Video
Holiday Tablecloth
How to Make an Easter Basket for Children
Jelly Bean Countdown Video
Jelly Bean Countdown Pattern
Leaf Wreath
Making Resurrection Rolls for Children
Songs:
Bunny Bunny
Five Little Bunnies Song
Jesus Died for All the Children
Jesus is Alive Today
Little Peter Rabbit
One Little, Two Little, Three Little Bunnies Song
Peter Cottontail
Games:
Egg Matching Game
Stories:
Creation Christian Felt Board Story
Easter Story for Children
Five Little Bunnies Jumping on a Hill Book Review
Max's Chocolate Chicken Book Review
Resurrection Eggs:
How to Make Resurrection Eggs to Tell Easter Story to Children Kids
Resurrection Eggs Art Pattern
Resurrection Eggs Easter Story Day 1 Cullen's Abc's
Resurrection Eggs Easter Story Day 2 Cullen's Abc's
Resurrection Eggs Easter Story Day 3 Cullen's Abc's
Resurrection Eggs Easter Story Day 4 Cullen's Abc's
Resurrection Eggs Easter Story Day 5 Cullen's Abc's
Resurrection Eggs Easter Story Day 6 Cullen's Abc's
Resurrection Eggs Easter Story Day 7 Cullen's Abc's
Resurrection Eggs Easter Story Day 8 Cullen's Abc's
Resurrection Eggs Easter Story Day 9 Cullen's Abc's
Resurrection Eggs Easter Story Day 10 Cullen's Abc's
Resurrection Eggs Easter Story Day 11 Cullen's Abc's
Resurrection Eggs Easter Story Day 12 Cullen's Abc's
Cullen Interactively Telling the Easter Story with Resurrection Eggs (1 video)
DIY Online Preschool Lesson Plans:
Season: Spring/Easter/Flowers